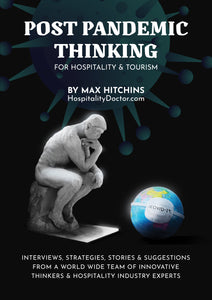 A FREE ebook, from the Hospitality Doctor, to help all Aussie Hospitality and Tourism operators recover from COVID.
As part of the Help Aussie Hospitality & Tourism Campaign, we invite you to download (FOR FREE) The Hospitality Doctor's (Max Hitchins) worldwide best selling eBook POST PANDEMIC THINKING FOR HOSPITALITY & TOURISM.
It contains 70 pages of interviews, strategies, stories and suggestions from a worldwide team of innovative thinkers and hospitality and tourism experts.  Specifically focussing on Hotels, Restaurants, Pubs, Clubs, Bars, Taverns and Motels. Download it to your mobile phone, computer or print it out as a hard copy version.
Read about: Germ killing robots; Augmented reality; Digital ordering post-Covid-19; Strategies from the world's #1 bar; The 'new norm' cleaning at Hilton; Worlds's most unusual restaurant; Spain after lockdown; Lithuania's gift certificates; An innovative Swedish Hotel; Kansas City targets Millennials; Government help available; A 'putting green' in a hotel; Tenono (USA) prints its own cash; Hotel recovery guide and many more innovative, interesting and informative ideas. Restaurant Technology to watch. Adapting in the new Restaurant era.