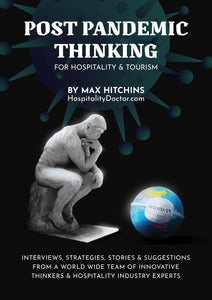 *FREE eBook* - POST PANDEMIC THINKING FOR HOSPITALITY & TOURISM.
Hello and welcome.  
At this site you can download a FREE eBook titled POST PANDEMIC THINKING FOR HOSPITALITY & TOURISM.
The person organising this gift for you is a subscriber to my annual eBook "How To Pick The Winner Of the Melbourne Cup." (See: PickTheCupWinner.com.au)  If you would like to include their name here………… we will send them a 'thank you' note congratulating them on helping the Aussie Hospitality and Tourism Industry get back to 'full steam ahead'.   
The eBook contains 70 pages of interviews, strategies, stories and suggestions from a worldwide team of innovative thinkers and hospitality and tourism experts to help, guide and assist Aussie Hospitality and Tourism people.  
Read about: Germ killing robots; Using augmented reality; Digital ordering post-Covid; Strategies from the world's #1 bar; The 'new norm' cleaning at Hilton Hotels; Worlds's most unusual restaurant; Spain after lockdown; Lithuania's gift certificates; An innovative Swedish Hotel; Kansas City targets Millennials; Government help available; A 'putting green' in a hotel; Tenono (USA) prints its own cash;  Adapting in the new Restaurant era; New Restaurant technology; Hotel recovery guide and many more innovative, interesting and informative ideas.  
As well, at the end of each quarter in 2022, I will send you useful information (for FREE), from around the world, to keep you in touch with emerging trends and opportunities.  For example, recently, a Melbourne restaurant has turned to robot waiters as they face a staffing crisis. Check it out at this link: https://youtu.be/ZXW9nczhT5g 
Good luck in 2022.